February 2015
Achieve's Closing the Expections Gap Report
UC Transcript Evaluation Service (TES) and SummerUp Initiatives are highlighted (page 11) in national Closing the Expectations Gap 2014 national report from Achieve.
Achieve convenes leaders from across states to come together to share their experiences and tackle common challenges.
http://www.achieve.org/files/Achieve-ClosingExpectGap2014%20Feb5.pdf
January 2015
UCLA Transfer Pride Week: Jan 19-23
It is the mission of the UCLA Transfer Program to ensure a transfer culture at UCLA by providing resources and programming to connect and support transfer students so they can achieve their desired academic, professional, and personal goals. Currently, we are excited to welcome over 5,000 new transfer students starting at UCLA Fall 2014!
Please join the UCLA Transfer Program on January 19th-23rd, 2015 for the UCLA Transfer Pride Week.
October 2014
Dispensing college knowledge
When Adrian Palazuelos was a high school freshman in Oxnard, he approached a counselor, seeking career guidance. "I distinctly remember him telling me, 'Hey, have you thought about being a mechanic?' I was offended at first, because I knew my parents wanted much more for me. Mechanic is a phenomenal career, but they wanted me to push on."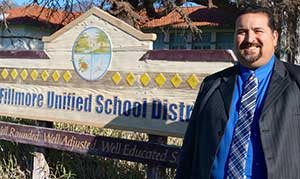 Another mentor in that same school — in a room next to the counselor — took Palazuelos aside and offered different advice. He helped launch the first-year high school student on a trajectory that took him to UC Irvine on a Regents scholarship, to graduate schools at Cal State Northridge and UCLA, and to the doctoral program at UC Santa Barbara's Gevirtz Graduate School of Education.
Today, after several stops along the way as a teacher and principal, Palazuelos, who was the first in his family to go to college, is the new superintendent of the Fillmore Unified School District. "That individual who helped me get on this path in many ways replicated what the Early Academic Outreach Program does today," he said. See the full article here.
October 2014
UC, College Board expand partnership
The University of California will partner with the College Board this year to better prepare low-income and underrepresented California high school students for college success.
UC's Early Academic Outreach Program (EAOP) will work with the College Board's Western Regional Office on its "All In" campaign, designed to eliminate academic barriers for low-income African American, Latino and American Indian high school students who show potential to enroll in advanced-level courses, such as Advanced Placement (AP) classes. These efforts include expanding the numbers of such students who take the PSAT/NMSQT, a standardized pre-college entrance exam.
"At the University of California, we want all qualified students to be aware of the academic experiences available to them and get an early start on planning and preparing for college," said UC President Janet Napolitano. "That includes taking preliminary college entrance exams and enrolling in academically-challenging courses that can help prepare students for college and increase their chances for admission at UC."
In the class of 2014, 49 percent of California students took the PSAT/NMSQT, and 35 percent of test-takers in California demonstrated potential for success in one or more AP classes. Yet, of those PSAT/NMSQT takers with AP potential, 31 percent did not take a matched AP course.
The "All In" campaign will bring awareness, training and advising to parents and high school students across California about the advantages of taking the PSAT/NMSQT and advanced-level high school courses, with the goal of increasing student participation.
See the full article here.
October 2014
UC Transcript Evaluation Service (TES) Regional Engagement Sessions
UC Office of the President will have five TES regional engagement sessions to provide districts, schools, programs, and other academic preparation partners an opportunity to learn more about the enhanced TES system. Learn more about TES, review and  provide feedback on the new system features, and engage in discussions that will contribute to the TES redevelopment. Those interested in attending please visit http://www.ucop.edu/transcript-evaluation-service/ to register for a session in your region. Space is limited – register early!
Locations and Dates:
September 2014
Achieve UC Hits the Road Again
This fall, for the third year, the Achieve UC initiative is sending members of UC's senior leadership team to local high schools, with events designed to encourage and inform college aspirants. Students will hear from chancellors and admissions leaders about the importance of a college education and the role UC can play in helping them achieve it.
Students will receive financial planning and academic preparation materials, and individual transcript evaluation will be available. Last year more than 10,000 students participated. See the full article here.
June 2014
UCI EAOP Alum Shares the Stage with President Obama
President Barack Obama greeted more than 6,000 members of UC Irvine's class of 2014 and 30,000 of their family members and friends in a special commencement ceremony at Anaheim's Angel Stadium on June 14th.
Not far behind President Obama was a member of the UC Irvine EAOP and Transfer Prep team, Jacqueline Rodriguez, who was chosen as a speaker for this year's commencement. Jacqueline joined the UCI community as a community college transfer student and is the first in her family to attain a college degree.
In her speech, Jacqueline mentioned EAOP and emphasized the importance of improved access to higher education for low-income and first-generation students. 
The University of California is proud to recognize Jacqueline's accomplishments. We wish her continued success on her journey, which this fall takes her to the University of Illinois, Urbana- Champaign, where she will pursue a Ph.D. in education.
Image courtesy of Richard Lui, The Desert Sun
EAOP Students Win Investment in Success Scholarships
​Twelve students from the University of California's Early Academic Outreach Program (EAOP) are 2014 recipients of the "Investment in Success" scholarship from the Masons of California. All students were selected from three Southern California UC campuses; Irvine (2-recipients), Los Angeles (7-recipients),  and Riverside (3- recipients). The 12 recipients will receive a total of $84,000 over four years. They join a group of 26 former-EAOP participants that became recipients of the four-year scholarship. Congratulations!
For more information about Masonic Scholarships: http://www.freemason.org/foundation/scholarships.htm
May 2014
UC San Diego honors Chancellor's Associates Scholars at special reception
Approximately 33 students who were honored April 23 as part of a special reception to recognize and welcome incoming Chancellor's Associates Scholars from Lincoln High School, Gompers Preparatory Academy, The Preuss School UCSD and Reality Changers, a local program which helps youth from underserved communities become the first in their families to attend college.
The scholarship program, which was launched last year by Chancellor Pradeep K. Khosla to improve the pathway for all qualified students to achieve a higher education, is made possible with funding from Chancellor's Associates, a loyal network of UC San Diego friends, alumni and parents who make an annual investment of $2,500 each. The pool of funds gives the Chancellor the flexibility to respond to the university's most urgent needs and critical priorities—including ensuring access and accessibility to UC San Diego for local students.
Read the full story: Welcoming the 'Leaders of the Future'
April 2014
UC Admissions application to open Aug. 1
The University of California will open its 2015-16 application for undergraduate admissions on Aug. 1, two months earlier than in previous years.
UC made the change to give students more time to complete their applications after hearing from counselors and other academic partners that the Aug. 1 date would help a variety of students, including those in summer outreach programs. Completed applications must still be submitted between Nov. 1–30, the same period as in prior years.
"The fall is an incredibly busy time for students who are balancing a number of priorities," said Stephen Handel, associate vice president of undergraduate admissions. "By giving applicants more flexibility, we think the process will be less stressful."
The Aug. 1 application opening also will better align UC's application cycle to those of other selective research universities. While UC encourages every applicant to plan ahead, early preparation and submission of the application does not influence admission decisions.
Students can improve their chances of being admitted to the university by applying to more than one campus. UC has made that easy to do: All nine undergraduate campuses use the same online application, so students need only fill it out once.
Further information about application preparation, as well as key dates and deadlines can be found at universityofcalifornia.edu/apply.
November 2013
Scholarship Opportunity: The Es El Momento Scholarship
Apply now! Univision has begun a scholarship called The Es El Momento Scholarship which has been available as of October 21, 2013.  The Es El Momento Scholarship will be open to all students of Latino/Hispanic heritage regardless of whether they are US citizens or undocumented.  The amount awarded for each scholarship is approximately $5,000. Deadline: November 18, 2013 
If you still have questions that do not have to do with the online application, please email Univision@hsf.net or call toll free at 1-855-356-6636.
August 2013
UCE Awards: Three EAOP Campuses are Awardees
Congratulations to EAOP at UC Davis, UC Los Angeles and UC Riverside; each was awarded a 2013 University-Community Engagement (UCE) grant. UCE aims to increase academic achievement and college-readiness for underserved K-12 and community college students, by creating collaborations between UC campuses and local community-based organizations.
UC Davis ‐ Office of Undergraduate Admissions (EAOP) 
Project:                       Harnessing the Power of Parents
PI:                                 Hong Pham, Regional Assistant Director, EAOP, UC Davis
CBO Partners:          The Parent Teacher Home Visit Project and the Sacramento Chinese Community Service Center
This collaboration between university, school and community groups in Sacramento will increase the reach of parent-teacher home visits, provide professional development for staff, and create more evening classes for parents, all in the service of increasing college readiness for students.
UC Los Angeles ‐ Office of the Vice Chancellor for Student Affairs (EAOP) 
Project:                        Community‐Based Early Academic Outreach Program
PI:                                  Janina Montero, Ph.D., Vice Chancellor of Student Affairs, UCLA
 CBO Partners:          Village Nation and Bridges Academic Center of Excellence (ACE)
This collaboration aims to efficiently engage more eligible, underserved African American students, by coordinating student services with the community-based organizations to which the students already belong. The project will provide them with academic college preparation and social development tools.
UC Riverside ‐ Office of the Vice Chancellor for Student Affairs (EAOP) 
Project:                         Legacy Accelerated Summer Mathematics Academy (ASMA)
PI:                                   Frances Calvin, Director EAOP, UC Riverside
CBO Partner:              Council of African American Parents (CAAP)
This collaboration will support African American males, grades 8‐11, in completing college preparatory mathematics classes at partner community colleges. Students enter the program's summer classes after 3‐5 months of weekend tutoring in math.